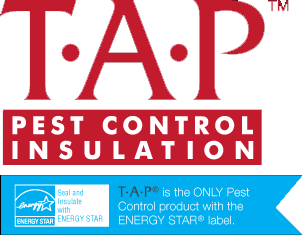 Ridding your home of pests and insulating your home just got easier!
T·A·P insulation is a three-pronged system to make your home or commercial building as safe, healthful, energy efficient, and pest-free as possible.
T·A·P stands for Thermal, Acoustical, Pest Control insulation. With T·A·P insulation, you blanket your home or commercial building with a hard-working insulation that protects in three ways:
T·A·P saves money by keeping your home warmer in the winter and cooler in the summer, decreasing the cost of your energy bills.
T·A·P reduces sound and makes your home quieter and more peaceful.
T·A·P provides the added benefit that other insulation does not: A permanent layer of pest protection!
Insects love to hide in ordinary insulation behind walls and in attics. They come out to feed when the lights are off! So how do we help prevent these pests? PestNow can utilize T·A·P Pest Control Insulation, which is infused with a pesticide grade boric acid that kills insects like ants, cockroaches, silverfish, and termites, helping to prevent these pests from infesting these areas of your home. In addition: T·A·P is green! T·A·P is made from all-natural ingredients with an 85% recycled content. Finally, the borates in T·A·P act as a superior fire retardant to limit the spread of fire, which protects your property in case of an accidental blaze.
Talk to one of our knowledgeable experts on how T·A·P insulation can help enhance your property and your quality of life.